Pokerstars Record Breaking Weekend
This was published 29-12-2008
This past weekend many records were shattered for purchase discount medication! generic prednisone cvs . top offering, prednisone generic and trade name. online poker in general and for Pokerstars.com generic zyban online also called bupropion to quit smoking forever. people buy generic zyban, zyban 150mg at this online pharmacy. .  The biggest record of all was Pokerstars set a new record for most people playing in an online poker tournament when their $500k guaranteed tournament reached its capacity of 35,000 people!  A player under the alias stan34powa went on to win the tournament and the $30,000 that was guaranteed for first place.  Not bad for an $11 investment!  This record will go down in the Guinness Book Of Records but you can guarantee that Pokerstars will do their best to shatter it again in no time!
The next big record that was shattered at Pokerstars was the most people ever online at a single poker site.  At approximately 3:30 PM EST yesterday, Pokerstars had a total of 250,540 people on their site playing poker!  This is twice their daily average and a HUGE accomplishment for the site and online poker in general.  I guess the whole "global recession" isn't slowing down poker dapoxetine kopen dapoxetine au quebec prejac dapoxetine preis apotheke 60 mg filmtabletten 3 stuck buy dapoxetine online india priligy dapoxetine en  players!
buy doxycycline online, does doxycycline mono 100mg treat chlamydia, doxycycline 100mg dosage for lyme disease.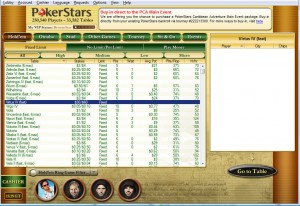 Pokerstars also set some personal records with their big Sunday tournaments.  The Sunday warm-up had its biggest field ever with 5,836 players and a prize pool over $1.1 Million Dollars.  Also, the Sunday Millions tournament guarantee was raised from $1.5 Million to $2.5 Million, but this was shattered again when 16,260 people registered bringing the prize pool up to $3,252,000!  In the end, a player from Sweden under the alias lp_SakiSaki took 1st place and $331,378.80 in cash without a chop at the final table!
If you aren't playing at Pokerstars.com, then you really don't know what you are missing!
.