» Poker Babes
2009-07-19
So, it happened a few days ago. The last woman was eliminated from this years event. *Gasp* *Shock!* *Horror!*
Okay, maybe that's a bit much, but I'm not really sure why it's a huge deal? When women make up a whopping 3% of the field, outlining how women do at a tourney like this is fairly silly in my mind. It's like breaking it down by race, orcountry or any other arbitrary measure. And I've never seen "last Italian eliminated from WSOP today! And just to round out my news articles, the biggest cash an Italian has ever made at the WSOP Is 140,333 in 2003″. It's an archaic thing to write about.
There are some amazing female poker players out there, and here is a list of female WSOP bracelet winners over the years….

Donna Ward was a World Series of Poker champion in the 1991 $500 Ladies – Limit 7 Card Stud
Jennifer Tilly won a World Series of Poker bracelet (and $158,625) in the Ladies' No-Limit Texas Hold 'Em event,
Linda Ryke–Drucker was a World Series of Poker champion in the 1987 $500 Ladies – Limit 7 Card Stud.
Maria Stern won the 1997 World Series of Poker $1,500 event
Phyllis Kessler was a World Series of Poker champion in the 2003 $1,000 Ladies – Hold'em and Limit 7 Card Stud.
Rose Pifer was a World Series of Poker champion in the 1985 $500 Ladies – Limit 7 Card Stud.
Christina Pie was a World Series of Poker champion in the 1999 $1,000 Ladies – Limit 7 Card Stud.

Annette Obrestad (born September 18, 1988) is a Norwegian poker player. Obrestad is the youngest person to ever win a World Series of Poker(WSOP) bracelet and in 2007 was considered to be one of the best online multi-table tournament players in the world. Susan J. Isaacs finished tenth in the $10,000 hold'em main event in 1998. (and won back to back bracelets for the ladies 7 card stud events)
Jennifer C. Harman
won the $5,000 Limit

Hold'em

in 2002
Annie Duke won a bracelet in the 2004 World Series of Poker $2,000 Omaha Hi-Low Split-8 or Better Event and was the winner of the 2004 World Series of Poker Tournament of Champions, where she earned the Winner-Take-All prize of $2,000,000



So there you have it…some great female poker players…i think that list speaks for itself!
2009-07-12
So…the main event WSOP is on. There are countless people covering it, and i'm sure you've seen more news about it than i have. I'm a fan of chicks who play poker, and so, i present an interview with a hot chick who's job it is to play poker. Like…because she's good at poker, not just because she's hot.
Her Name is Tiffany Michelle. She was the last woman standing during the 2008 WSOP, and came 17th overall. She cashed over $330,000. Not too shabby. This is an exerp from an interview with her from Asylum Australlia. I just like it because she's pretty hot for a poker player!

What's cool about your job?
Playing poker is actually a stress reliever for me as well as a natural high. There is something calm and serene about sitting down at a poker table, tuning out the rest of the world and putting 100 percent of my focus on the game, the cards and the players.
It's also an adrenaline rush to sneakily pull off a big bluff or to win a huge pot of chips and then scoop them all into my stack. Collecting a tangible reward for your work is very fulfilling.
What's the weirdest thing that ever happened during a competition?
I encounter all kinds of people at the poker table. I primarily compete with guys, and there are a lot of strange personalities that come out of the woodwork. I've seen guys lose their mind over the most trivial things, get into fights, I've been cussed out, hit on and had to sit next to people who smell like they haven't showered in a week!

Do your looks help you psyche out competitors?
I usually wear hats and hoodies and tend to play down my looks when I'm at the poker table. I never want someone to think that I've gotten where I have today or have the results that I do because of some special advantage as a hot chick. I want to be respected for being a great player, just as good as the guys. With that said, yes, I do notice that guys get a little nervous and unsure of themselves when I sit down at a table.
How do guys react when they find out what you do for a living?
Guys get so excited when I tell them what I do. They think it's really sexy and badass, but I have to be prepared to be bombarded with a million questions. Inevitably they want to discuss every poker hand and experience they've ever had. They're always curious about the money and ask how much is the most that I've made and if I've played with such-and-such famous poker player. Then, of course, they invite me to come play with them.
Me Personally? I like her wearing the hat better than no hat. But i'm not sure if that has any effect on her poker game.
If you'd like to learn more about Tiffany (like what tourney's she's playing in or events that she's attending…) you can check out her website!
2008-01-04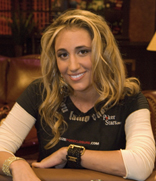 Upcoming poker star Vanessa Rousso is our first featured poker babe and we couldn't think of anyone else more deserving of this honour. Vanessa was born in Paris and lived their until she was ten years old at which point she bounced from city to city in the United States with her family. Her poker days began at the tender age of 5 at which point she began learning and playing poker with her parents who she describes as "game oriented". Rousso attended Duke University while living in the US majoring in Economics. During her college days she became interested in game theory and began to study it, which she now credits to her decision to become a professional poker player. Since the start of her pro career, Vanessa's biggest accomplishment came in 2006 when she was named top female money earner in the United States. She is also a coveted member of Team Pokerstars and continues to be an avid player of both online poker and the regular tournament circuit.