Tired of looking all over the internet for a promo code for Sky Poker? Well, guess what, they don't exist! Sky hasn't started using these codes yet but have attached their special promo to links from a few different websites, ours being one of them (see the Download Now button at the bottom of this page or click here for the most current promo).
What does that mean? During registration at SkyPoker, you will see an area that asks you for a promotional code or free bet code. The registration screen will show as seen below:

When you see that box, you don't have to do ANYTHING! Our special site links to Sky Poker, automatically attach their promotional offer / free bet code or whatever you want to call it to the creation of your account!
£1000.00 + up to £150 FREE Bonus Code – NO MINIMUM DEPOSIT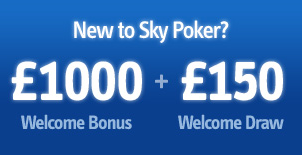 So what do you get by using our links? Your account will automatically be credited with a bonus of a special WELCOME DRAW bonus where they will randomly give you between £1 – £150 absolutely free, which you can use to start earning your £1000.00 FREE!  The welcome draw promotion doesn't even require you to deposit, so essentially you could get up to £1150 from Sky Poker without depositing a dime!  That doesn't even include any money you make playing poker there also!
Promotion Code Clearing Requirements
As you play poker on the site, you will release incremements of your bonus. You will continue to accumulate the bonus until you reach 15000 points, which will give you a total bonus of £1000.
Here is the table explaining the points:
If you are ready to play, please use the download button below to be taken to the Sky Poker registration page. Alternatively, you can check out our Sky Poker Review for more information on the site.
Please click the link below to get started with our special £1000 bonus and up to £150 free money promo (No Promotional Code is Needed With This Link):