Devilfish is the new Gordon Ramsay
This was published 19-09-2008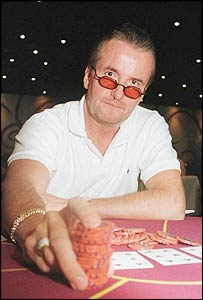 I can read Dave Ulliott's mind right now… "If Gordon Ramsay can do it, why can't I?"
Well Dave, you can't. And more people are going to watch a "Kitchen Nightmare" show than a poker show. Obviously Dave didn't get this memo and on the show, attempts to goad, scream, and humiliate 4 poker hopefuls. He bankrolls (supposedly from his own bankroll) them and coaches them through the ranks by starting them at an online poker site.
The show, titled "How to Become a Poker Millionaire" is airing on ITV Wales and will not be seen on US television. The ultimate goal of the show is take the last player standing and send them to the WSOP Main Event next year. It's a last man standing type show with one player being eliminated weekly.
Dave stated, "Poker players won't have seen anything like this before. It was a real boot camp for the participants and I took no prisoners. There's laughter and tears, good poker and bad poker, and viewers will get to learn many of the tricks of the high-stakes poker trade which took me years and a lot of money to learn."
Never seen anything like this before? Dave, we hope we never see anything like it again!