Dave "Devilfish" Ulliott
This was published 03-04-2008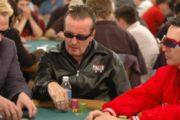 Dave Ulliott, or Devilfish as he goes by at the poker table, is currently the best poker players in the UK as of March 2008 according to UK Poker Player magazine.
Who is David Ulliott?
You may recognize him by his funky glasses, but Ulliott has quite an amazing history.
Ulliott was born in Hull, England. He was born the son of Stanley Ulliott, a World War II paratrooper turned truck driver and his wife Joyce (née Jefferson). Ulliott had a rough childhood and at 19 he was involved in a fight where he got his face slashed by a steel comb. He then moved on to safe-cracking and was part of a team that targetted tobaconists, off-license and garages. The team was eventually caught and Ulliott went on the run. His run did not last long though as he was eventually arrested and sent to Leeds Prison where he spent his 21st birthday. Shortly after his release he was arrested again for armed robbery at an off-license, but was released three days later without any charge. After being released this time, he ended up getting back together with another safe-cracking team. This lasted for a bit while he continued a job at a timber yard.
At 28 Ulliott was arrested again for fighting outside a nightclub. He served another 18 months at Leeds Prison where he met a criminal named John. The two plotted a bank robbery on their release, but on the day it was to happen John was arrested and the plans fell apart. John's wife told Ulliott to go straight and shortly after he met his 2nd wife and as far as we know, never committed another crime again.
Ulliott started playing poker as a young child, and later learned The Three Card Brag (a popular UK card game) at the age of 16. Ulliott also made a fair amount from betting and was banned from William Hill at one point for successfully gambling £4,000 up to £70,000.
When playing in private poker games, Ulliott often carried a gun on him to ensure that he would not be robbed of any winnings. In one instance players attempted to rob him, but he fired the gun into the air and managed to escape with his winnings.
In 1997 Ulliott went to the WSOP with $200,000 to play. After losing it all in tournaments and cash games, he borrowed another $70,000 but lost this too, and pissed off several people in the process. He managed to scrounge together an additional $2000 for the $2000 NL Holdem event, where he reached heads-up against fellow Englishman Chris Truby. On the final hand Ulliott shoved all his chips in on an open ended straigh draw and flush draw and managed to hit his striaght on the river winning $180,310 and his only WSOP bracelet ever. But, he wasn't done just yet in Vegas. After the game he startd playing in some big cash games and by the end of his trip he managed to accumulate $742,000 in cash winnings.
His largest tournament win came in 2007 when Ulliott came 3rd in the WPT $15,000 Doyle Brunson Classic – No Limit Hold'em for $674,500.
Here is a video interview with Devilfish:
Sources: http://pokerdb.thehendonmob.com/player.php?a=r&n=236
http://en.wikipedia.org/wiki/Dave_Ulliott